9 Signs it's time for a new Pool Service Provider
1. Weekly service quickly turns into bi-weekly - We've all seen it, the homeowner hires a new pool service, after being promised multiple things, one being coming on a certain day every week, at a certain time. This may stay the same for 1 month, 2 months, but after a while a change in pattern is seen. The pool service company starts skipping a week once in a while, then before you know it, they are coming every other week. In our opinion, this is unacceptable. You (the homeowner) pay for a service, which entailed a weekly visit, which needs to be continued no matter what. It doesn't matter if the pool is "clean" or everything is in balance, all the parts of a pool should be examined weekly, to ensure everything is working properly. At Into the Blue Pools, when we tell a customer we will be there on a certain day, at a certain time, that means we will be there!

 2. Testing chemical balance - Next time your pool guy test's the water, pay attention! Every experienced certified pool operator should retrieve the water from approximately 18" below the surface, or roughly elbow deep. If this is not where the tested water comes from, it could result in skewed results, thus resulting in improper chemicals (or amounts) being added, in turn making the pool unsafe for you and your family.  Water balance that is unattended to, can result to surface deterioration, breakdown of hardware or equipment, and even irritation to skin and eyes.  One factor that contributes mainly to irritation is known as "Chloramines", which can be explained simply as a strong chlorine odor.  This odor is a result of chlorine mixing with everyday pollutants found in pool water such as urine or even sun-screen.  Call your pool professional to determine if the Chloramines in your pool are at an optimal level, since most home test kits do not test for this type of chemical. 
3. Hard to reach areas show signs of neglect - Take a look at certain areas of your pool, examples being areas a homeowner wouldn't look often. If areas such as skimmers and baskets show signs of neglect (growth, etc.), bring this to your pool service's attention. At Into the Blue Pools, we clean as if every pool were our own, including those hard to reach areas.
4. Does your pool service provider communicate - When we say communicate, we don't mean sending you an invoice. Does the company keep you updated on what's going on with your pool? Issues like chemical balance, odd noises (coming from pump, etc.), and water levels should be brought to the attention of the homeowner. Even if it's once a month, the customer deserves a knock on the door, email, or phone call to keep him or her updated. If issues such as these go unnoticed it can result in larger issues. At Into the Blue we pledge to keep the customer updated, by whichever route of communication is most convenient to them.
5. Using owner's equipment to vacuum - Using the owner's pump to vacuum is by far the cheapest and most convenient route for a pool service. In fact, some of the largest pool service companies in the area use these types of vacuums. They're easy to carry around, easy to store, and very inexpensive. However, as most homeowners and professionals know, convenient and cheap isn't always the best. Into the Blue uses state-of-the-art equipment, including the Hammerhead Vacuum. This vacuum is only used by the top pool service providers, because it is large and expensive (retails for $2,000). We feel that to give our customers the best quality service possible, the best equipment is necessary.
6. Do you sometimes ask yourself if your Pool guy even showed up that day - Unfortunately, many pool service companies are like ghosts until it's time to pay the bill. Much of our business comes from customers that grew tired of never seeing their previous pool service, and most of the time not knowing if they came to the house. Not only do we come at a certain time, but we also leave a hand-written note, letting the customer know we were there and what was accomplished.
7. Is the technician a certified pool and spa operator - As most people know, a pool service company isn't required to hire only certified employees. This means that if you see someone new cleaning your pool, that could be their first day cleaning a pool! At Into the Blue Pools, we invested in taking the time to become Certified Pool & Spa Operators, not only because it set's us apart, but also the learning experience anyone can gain through the written testing. We recommend you check with your pool service to clarify that everyone coming to your home is certified. If not, possibly it's time to make a change.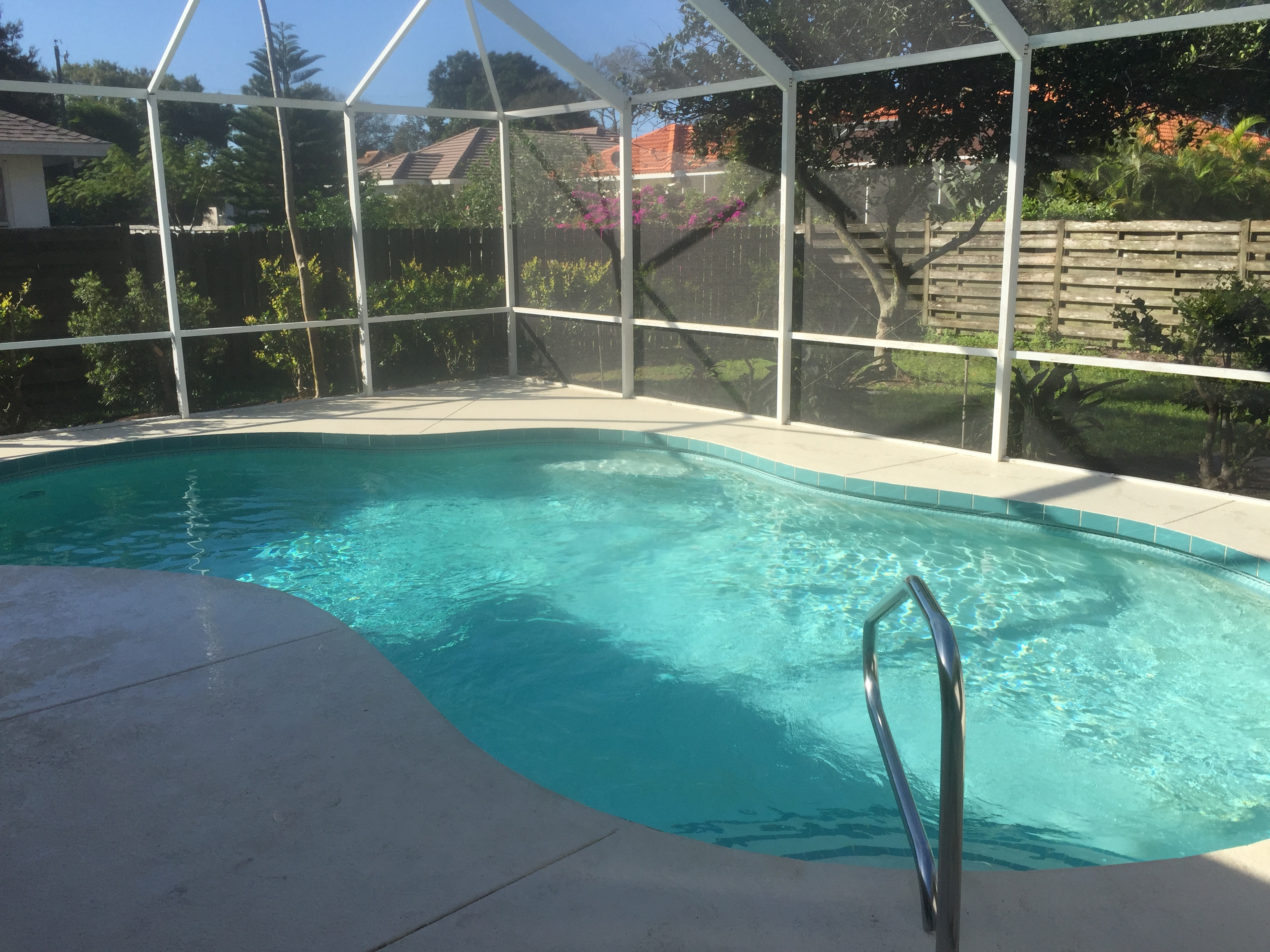 8. The customer is not followed up with - Any reputable pool service provider should send it's a customer an email or make a phone call to clarify the customer is happy with the service, and if any changes need to be made. In any business, not just pool maintenance, follow-up is key to a great customer-technician relationship. We pledge to follow up with each customer to make sure your needs are being satisfied.
9. Different technicians maintain your pool - When paying for a service that involves having someone come to your home and feet away from your back door, you want to trust that person. It's difficult for a homeowner to trust someone when they don't see them on a regular basis. Also, it is beneficial for the technician to visit each pool consistently, because you get to know that certain pool and what it's patterns are, such as chemical balance, water level, salt level, etc. At Into the Blue Pools, the first technician that visits your home, will always be the technician that visits your home and maintains your pool.
We offer professional pool servicing in the Stuart, Florida area and surrounds. Call us today for a free no hassle estimate for our Pool service.
Call Chris Today: 772-631-3103
Email: chris@intothebluesrq.com